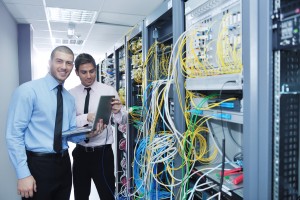 As a company that prides ourselves on being able to carry the title "Information Security Specialists", we have been a part of the managed security services business arena long enough to thoroughly understand what it takes to create a truly effective set of information security measures. Through our many years of helping our clients keep their sensitive data safe from attackers, we have come to recognize that there are in fact Four Pillars of Cyber Security that, when combined, serve to enact the most efficient security countermeasures against intrusive threats to your systems and data.
1) Risk Visualization & Comprehension
As any good computer forensics examiner will tell you, when it comes to analyzing something as complicated as a network security suite in the search for potential vulnerabilities, (for example in the conduction of Penetration Tests), it helps to have a visual representation of the systems and components on hand for immediate reference as required. Creating these tools helps ensure that your security personnel have the best tools to help detect and mediate potential security risks as quickly and efficiently as possible. It also proves invaluable in helping to prioritize any necessary actions by order of criticality.
2) Risk-Based Prioritization
If and when vulnerabilities and potential threats are identified, it is important to take action in a prioritized and structured manner where the more critical risks are addressed first. Anything else is not only illogical, it could end up leaving you exposed to a potential threat for far too long! As part of our managed security services and Information Security Awareness Training, we can help your personnel learn how to identify and prioritize security risks as they are detected in order to help keep your systems as secure as possible.
3) Closed-Loop Review & Management
This is where it all starts to come together, and the data gained from security assessments and penetration tests are combined to form a series of closed-loop risk-remediation policies and procedures for your personnel to follow and abide by. By assigning an acceptable risk tolerance to the systems, procedures and assets present within your individualized risk catalog, and by reviewing and managing the identified risk factors to ensure compliance with the tolerance level on a structured and regular basis, your security efforts will be more easily managed, measured, and made both tangible and more intelligible for all your employees.
4) Continuous Monitoring Of All Gathered Data
Don't wait until a proactive Information Security Assessment has to turn into an Incident Response report – by then it will be too late, and there is a good chance your sensitive information might have been compromised. The golden rule of IT and network security is to institute a pattern of continuous monitoring of indicative data combined with routine self-audits. These are all things we can teach you how to do as part of our Information Security Awareness Training offerings. In the end, the continuous vigilance such procedures provide act as a great countermeasure and security aid.
Keeping these Four Pillars in practice in your business, combined with the expertise and services we offer here at Ezentria, will go a long way to helping you feel more confident in the security of your systems and data.
Call us today at 1-800-230-0780 to learn more!