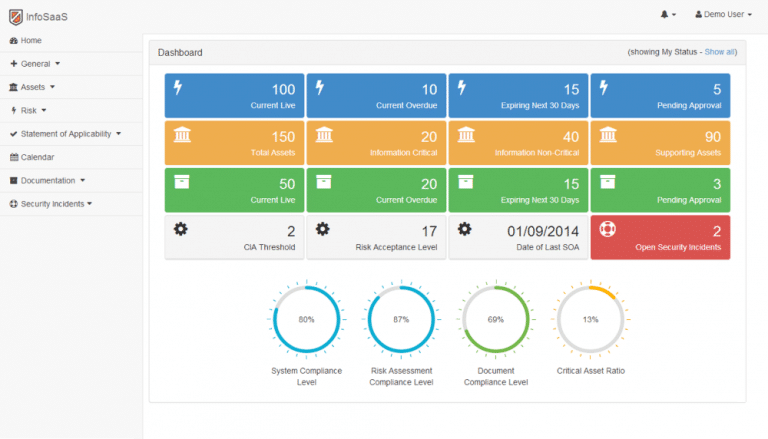 Ezentria, Inc., the leading provider of information security and ISO 27001 expertise, is encouraging organizations to start their ISO 27001 compliance projects with Ezentria's comprehensive ISO 27001 Traction Program.
Developed by ISO 27001 practitioners, the ISO 27001 Traction Program is designed to help organizations implement an information security management system (ISMS). The Traction Program helps organizations reduce implementation costs by providing a range of tools, including the unique cloud-based ISO 27001 risk assessment dashboard, industry-leading implementation guidance, and pre-written documentation.
The duration of an ISO 27001 implementation project depends on the size of the organization, the scope of the project, and the resources and skills available. Even so, in the ISO 27001 Global Report 2016, more than 50% of surveyed organizations reported that it took between 6 and 12 months to achieve ISO 27001 certification. In addition, 32% of the organizations surveyed used toolkits to achieve and maintain their ISO 27001 certification.
Dave Christiansen, a founder and managing partner of Ezentria, said: "Implementing an ISO 27001-compliant information security management system requires information security professionals to put a substantial amount of time and effort into researching, developing and approving each policy and procedure. Our comprehensive ISO 27001 Traction Program contains the guidance, documents and templates required to help organizations meet the requirements of ISO 27001:2013, increase efficiency, and reduce common errors."
Ezentria's ISO 27001 Traction Program is suitable for organizations of any size and complexity and enables them to accelerate their ISMS implementation project while reducing their costs.
In addition to ISMS documentation templates, the ISO 27001 Traction Program includes the cloud-based management dashboard, which is indispensable in tackling the complex task of risk assessments and can help save time, effort and expense.
The included documentation library delivers return on investment by reducing room for error, saving time and costs, and providing organizations with expertly developed, established methods for implementing an ISO 27001-compliant ISMS.
To top it off we've included consulting support assigning one of our ISO-certified information security practitioners to keep your project on track and provide expert-guidance along the way.
For more information about Ezentria's ISO 27001 Traction Program, please contact their consulting team here or call them at +1 (800) 230-0780.